Case Scenarios
Choose which scenario to view below:
The following case scenarios will help medical professionals apply what they know about domestic violence in healthcare settings to patient interactions. Read each scenario, and answer the questions below. Click "check answer" to see the possible answers.
Case Scenario One
A 23-year-old woman, Maria, presents at the emergency room with a broken wrist. She is nervous, soft-spoken, and accompanied by her 27-year-old boyfriend, Darren. When you ask Maria how her wrist broke, Darren speaks up and says "She's so clumsy. She fell down the stairs." You look at Maria, and after looking at Darren, she confirms that she fell down stairs. As you examine her wrist and arm, you notice bruises that look older, and Darren tells you "Doctor, we're here for her wrist. There's nothing wrong with her arm!"
Questions to Consider
Case Scenario One continued
You look at Maria's wrist, and inform her that you suspect it is broken. You take Maria down to the radiology department for an x-ray. You inform Darren that due to safety concerns, he is not permitted to come to the x-ray. Darren is disgruntled, but agrees to stay behind in the room. He tells Maria not to be too long, and to come right back to the room afterwards.
Questions to Consider
Case Scenario Two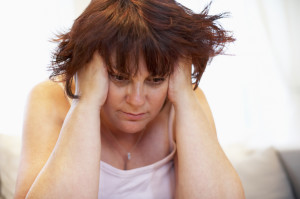 A 45-year-old unmarried woman, Eileen, comes in to your practice for her annual checkup and exam. Before her visit, Eileen fills out the office paperwork, and checked that she was not experiencing abuse at home on her medical history form. When you talk to Eileen, she states that she's felt tired, stressed, and has had some digestive problems lately.
Questions to Consider
Eileen stated that she was not in an abusive relationship in her patient paperwork. Should you ask her in person?
Check Answer
Case Scenario Two continued
You introduce the topic of domestic violence with Eileen in private, and tell her that you ask all of your patients about domestic violence because it is a public health crisis (and you let her know of any mandatory reporting requirements). When you ask Eileen if she is being hurt by anyone at home, she hesitates. You ask if anyone has been abusive, threatening, or violent towards her at home. She eventually says yes, she is being hurt by someone at home. Eileen states that her girlfriend has been threatening her, throwing objects, and yelling at her.
Questions to Consider
What do you think Eileen is thinking after disclosing that she is being abused?
Check Answer
How would you respond to Eileen?
Check Answer
What resources would be ideal to provide Eileen?
Check Answer